Grand Prix Garage - GP2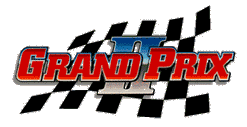 This page is maintained here for historical purpose. I really should make a GP3 page sometime.....
---
A lot of time I spend on my PC goes into Grand Prix 2 by Microprose. I use an improved, home-edited Svga cockpit with much clearer ciphers. You will find this and many other cockpits and utilities at Formula 1 Grand Prix 2 Top 10 Drivers' Hardware and More.
I send my laps and races to these competitions:
1. Races: The LFRS (Little Formula Racing Series).

Quite different from hotlapping, which started my racing career, this competition is about doing races.

The drivers are grouped in teams. The greatest of them all is Lusa.

During summer, there is an extra competition with short races:

2. Hotlaps: The GP2 No Help Hotlaps by Ilari Lehti

This is the hotlap competetion where driver skill and good equipment are the only factors. All game helps and other tricks like slow motion driving and taking shortcuts are disallowed.

Here are some good general links for GP2:
Alpha F1 - Grand Prix 2
GP2 Top 20 Drivers' Hardware and More
GrandPrix2.com - main page