Grand Prix Garage - GPL

Currently in the garage:
Here are alternative track.ini files for 32 tracks. The starting grid is changed to a 1x1 staggered format, giving the cars more room. This allows for better starts in online races. When used online, only the host needs to install the files. Clients will then use the modified grids automatically.
At least three differently spaced grids are provided for each track. Grids for 21 add-on tracks are provided (Brands Hatch, Dubai, Hickory, Homestead, Loudon (New England), Phoenix, Watkins Glen 99, Österreichring, Taladega, Atlanta, Snetterton, Cleveland, Elkhart Lake, Imola, Indianapolis, Laguna Seca, Mid Ohio, Riverside, Road Atlanta, Solitude and Goodwood). A facility for batch copying of the track.ini files is included.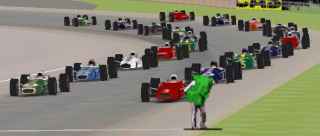 (Silverstone 6 units spaced)
Download trackol16.zip (144 KB)
Download trackol16_patch.zip (7 KB) for updated Solitude track.ini's; includes a zip with Martijn Keizer's new track.ini of 10 august 2000.
Download trackol17.zip (144 KB); this is the patched trackol16, but it does not include the zip with Martijn's new track.ini.
View version history.
By default, GPL online will show only 4 cars in front and 1 behind over internet dialup connections. This patch lets you increase those numbers to 6 in front and 2 behind, or more. And it allows servers to show any combination of cars in front and cars behind instead of the default 75%/25% division.
To see what difference the bandwidth patch can make, see these examples.
There is support for GPL 1.2.0.1 as well as GPL 1.2.0.2 (Cpu fix). The program can apply and remove the Morecars patch and the Cars behind patch, and shows the current patch status.
New in version 3.0
Added a more flexible method for specifying the number of cars shown behind, reducing the need to modify core.ini for different bandwidth settings.
New in version 3.1
Textual improvements in the patch program and the accompanying .txt files. There were no changes in the patches themselves.
Added error description for the case when a client joins a non-dedicated server while the client is using a larger server_send_size. GPL will not show the server car to the client in that case. The solution is to use strictly equal server_send_sizes on a non-dedicated server.
Download bwpatch.zip (version 3.1) [40 KB]
Here is a zip file containing 3 example core.ini files for GPL 1.1.0.3 and GPL 1.2.0.1. The comments explain the parameters and default values. Do not copy them as core.ini without modification, certain parameters need to be tailored to your configuration. At least look at: replayMemoryOverride, AllowForceFeedback, synch_method, clock_adj_delay and the OpenGL settings (if applicable).
The files are:
core.gplvvvv.verbose.ini. This is the most elaborate, it contains all parameters with several lines of comment per parameter if needed.
core.gplvvvv.full.ini. This contains all parameters, one line per parameter mostly.
core.gplvvvv.minimal.ini. This one contains only the most common parameters, most of it fits on one page in 800*600 resolution. Parameters that were left out assume default values as documented in the other files. I left in the OpenGL parameters despite the fact that they are not common to all. I made this file for people who find the full core.ini complicated.
Download core.gpl1201.ini.zip (6KB).
Download core.gpl1103.ini.zip (6KB).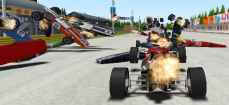 (Click on image for more)
VROC 2.0 Home Page
Eagle Woman's Grand Prix Legends
Ricardo Nunnini
The cockpit shop
The US Pits (GPL Section)
HotGrid's ultimate GPL links page